About GIS
GIS stands for Geographic Information System.

GIS is an information system that integrates, and analyzes geometric information of maps and various attributes associated with them, showing them in a variety of ways.

GIS is utilized in a variety of information fields such as electric, communications, gas equipment management, attempts to open banks or fast food chain stores, and delivery planning of carriers based on digital map information.

Implementation Merit of GIS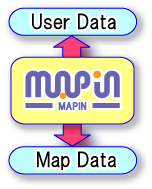 It is a big challenge in modern business to effectively manage and utilize massive amounts of information in various ways.
GIS makes it possible to integrate all of the information by incorporating the massive amounts of data and digital map information into one system.
Also, visualizing the information by incorporating the data and digital map information, allows you to analyze each piece of information easily, utilizing it more strategically.
Our MAPIN is genuine domestic software that has performed reliably for over 20 years. We promise to provide you various, more useful, GIS solutions that utilize preexisting database information such as client profiles.
Implementation Merit of MAPIN
The existing GIS system is a closed system, as the data is only incorporated into one system.

MThe design concept of MAPIN is not only to focus on data link functions between applications, but also to keep it from being a closed system as much as possible.
This allows it to have a smooth data link with not only the new system but also the current working system, minimizing a system modifications and changes in the operation manual when implementing the map information system.

MAPIN employs the first ever object-oriented concept that utilizes a preexisting system in Japan.