Valuable information that nobody has seen exists in a database.
MAPIN allows you to see the valuable information anytime you would like.
Web map information system (Web-GIS) development tool "MAPIN AX" is now on sale.


Though a great majority of GIS engines are made in Europe and the United States and translated into Japanese, MAPIN contributes its technical capability to society through this rare GIS engine, genuinely made in Japan. Since we own the patent, we would appreciate your consideration in purchasing our GIS engine.
  
Map information system development kit MAPIN AX
MAPIN AX is ISAPI that was developed to structure GIS on the intranet.
MAPIN AX utilizes XML technology and has a command to edit as well as to refer and analyze. Based on the accumulation of experience and technical capabilities, this innovative, unrivaled, WebGIS has become reality.
Original WebGIS application can be developed by combining external databases, CGIs such as Perl and PHP, JavaScript, and Ajax. It is a WebGIS solution for developers who would like to develop an advanced, original WebGIS application.      

Map data structure example
The following is one example of GIS scale map data structured by MAPIN AX.
Map data Displayed scale example
1/750
1/1500
1/3000
1/5000
1/10000
1/25000
1/50000
1/20万
1/50万
1/90万



  Housing map
  【Area】 City, Ward, Town,
        and Village
  【Use 】 Mainly to specify
        individual building
        To search block
        number
  Road map
  【Area】 Prefectures
  【Use 】 Mainly area analysis
        To search town
  Regional area map
  【Area】 Country
  【Use 】 Mainly area analysis
        (Marketing)
         To search city,
        ward, town, and
        village
Implementation case
The following is a part of actual record samples of MAPIN AX implementation.
 <Sales and marketing support system for financial institution>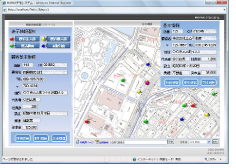 This allows you to visually recognize clients' locations or hidden geographical characteristics of the area by connecting existing data that financial institutions have, and showing scattered icons on the map.
Clients can prepare for a visit or find out where you have not visited for a while, as the icons on the map can show the information that is in the system, which connects with the client's transaction and sales history.
Since the data is shared between headquarters and sales stores by the network, we can pay close attention to sales campaigns. Thus it is very effective at a sales promotion, as the current status can be confirmed on the map from any computer terminal.
Operation environment
IIS
 Microsoft Internet Information Services Ver.5.0
 (Windows 2000 Server)
 Microsoft Internet Information Services Ver.6.0
 (Windows Server 2003)
 Microsoft Internet Information Services Ver.7.0
 (Windows Server 2008)

CPU
 Equivalent to IntelR Core? 2 Duo Processor T4000 or more is
 recommended
Memory
 1GB or more is recommended
Hard Disc
 System 20MB + depending on the data to use
Database
 Microsoft SQL Server 2000
 Microsoft SQL Server 2005